P
izza - favourite food to me and thousands of others around the world. Personally, the best pizza I have ever tasted was in a small restaurant in rural Tuscany, near Pontessieve. The pizza was enormous and spilled over the edges of the plate it was served on. We sat outside in the candle-lit lapa, soaking up the Italian countryside, food and wine.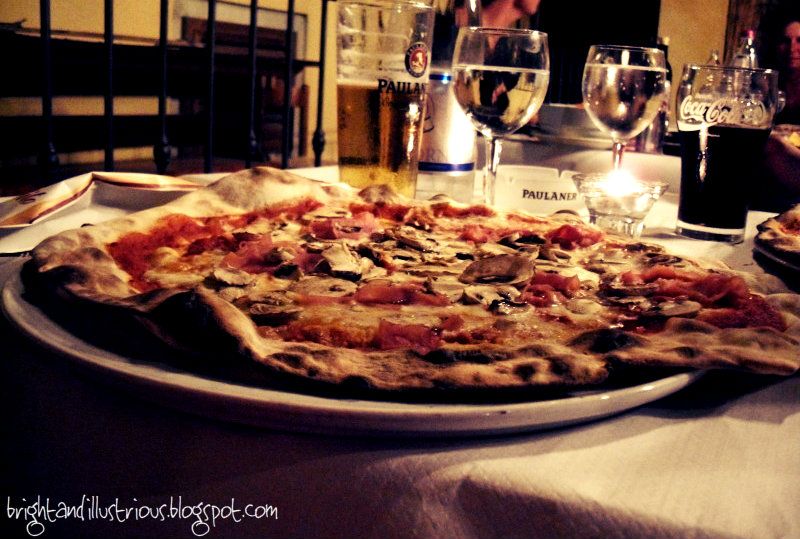 I have to say though, Magica Roma comes close second. This little gem of a restaurant can be found in Pinelands, Cape Town - my roaming ground as a child. I only recently went there for the first time, if you can believe that, and the pizza was gorgeous. I know my sister and her boyfriend frequently get take away pizzas from this place and I am not surprised. It beats any supermarket or take away pizza similar to Dominoes or Pizza Hut.
Tonight I decided that, what with the Euro 2012 a (well done Denmark!) and it being a Saturday night, a pizza was a must for our supper. I thought I would share my favourite pizza dough recipe - compliments of Mr Jamie Oliver.
Ingredients
500g strong white bread flour
1/2 tspn fine sea salt
7g sachet of dried yeast
1/2 tbspn golden caster sugar
2 tbspn extra virgin olive oil
325ml lukewarm water
Method
Sieve the flour/s and salt on to a clean work surface and make a well in the middle. In a jug, mix the yeast, sugar and olive oil into the water and leave for a few minutes, then pour into the well. Using a fork, bring the flour in gradually from the sides and swirl it into the liquid. Keep mixing, drawing larger amounts of flour in, and when it all starts to come together, work the rest of the flour in with your clean, flour-dusted hands. Knead until you have a smooth, springy dough.
Place the ball of dough in a large flour-dusted bowl and flour the top of it. Cover the bowl with a damp cloth and place in a warm room for about an hour until the dough has doubled in size.
Now remove the dough to a flour-dusted surface and knead it around a bit to push the air out with your hands – this is called knocking back the dough. You can either use it immediately, or keep it, wrapped in clingfilm, in the fridge (or freezer) until required. If using straight away, divide the dough up into as many little balls as you want to make pizzas – this amount of dough is enough to make about six to eight medium pizzas.
Timing-wise, it's a good idea to roll the pizzas out about 15 to 20 minutes before you want to cook them. Don't roll them out and leave them hanging around for a few hours, though – if you are working in advance like this it's better to leave your dough, covered with clingfilm, in the fridge. However, if you want to get them rolled out so there's one less thing to do when your guests are round, simply roll the dough out into rough circles, about 0.5cm thick, and place them on slightly larger pieces of olive-oil-rubbed and flour-dusted tinfoil. You can then stack the pizzas, cover them with clingfilm, and pop them into the fridge.
His recipe uses double of the above ingredients which makes 6-8 pizza bases typically, but I usually half this unless we are having guests. Tonight I decided to make 2 different pizza's - Avo and Feta and Jalepeno and Quorn Sausage (my husband is vegetarian).
I think they turned out pretty well and they tasted 100% better than any take-away pizza. So next time you fancy the timeless Pizza - make one yourself - it is well worth the time and effort.