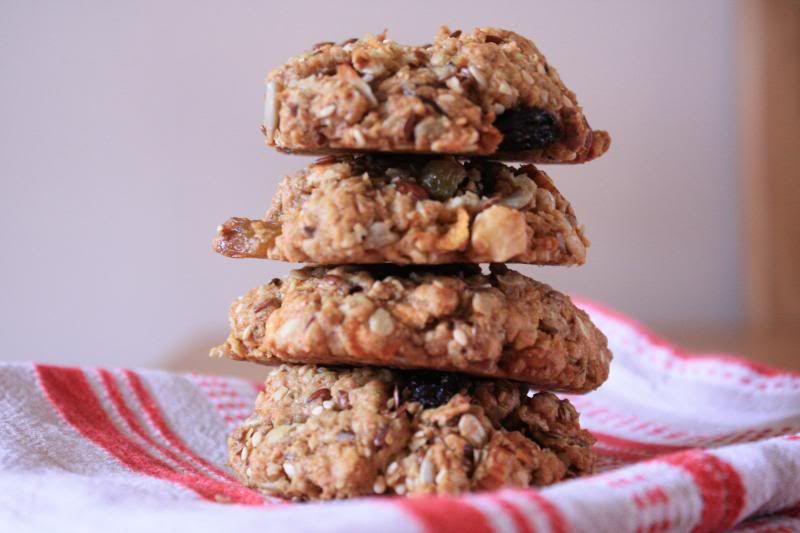 So I mentioned on Monday the wonderful list of recipes over at Abel and Cole and came across this fabulous little Breakfast Cookie. I had to make it. I am glad I did. They are scrummy.
♥ You will need
125g wholemeal or spelt flour
150g jumbo porridge oats
1/2 tsp bicarbonate soda
a pinch of sea salt
1/2 tsp ground cinnamon
100g dark or light brown sugar
4 tbsp maple syrup or agave nectar
1 large carrot or 2 medium-sized carrots, coarsely grated
100ml olive or coconut oil
100g chopped dried fruit (raisins, dates, apricots, mango and/or figs)
100g chopped nuts or seeds
Grated zest of 1 lemon (optional)
♥ Steps
1. Preheat oven to 180°C/Gas 4.
2. Add the flour, oats, baking soda and salt to a big bowl. Mix well so the baking soda and salt are evenly distributed. Add the remaining ingredients. Mix everything together.
3. Scoop by the tablespoon and press into rounds on an oiled baking sheet. Tidy up the edges. You'll probably get about a dozen per tray. If you don't want two batches, just freeze the rest of the mix for another day.
4. Bake for 10 mins, or till just starting to set and just picking up a little colour. They'll set to be soft and chewy like this. If you'd prefer them crisper, flip the cookies over and return to the oven for 3 mins or so to crisp up the bottoms.
5. Once cooked, they store nicely for a week in an airtight container.

They are naturally sweet tasting and are lovely and chewy and full of goodness from the fruit and nuts. They are already nearly finished and I will definitely be making another batch.
Happy baking x