We have recently started to shop for our groceries online. Mainly to save money (we are suckers for
Buy One Get One Free
and all the millions of offers you get in store) and it does save time. We have done it a few times now and I am getting used to it. The one thing I still find hard is knowing what to buy for meals and that means trying to plan our weekly suppers. I am not the sort of person who knows what I am going to cook for supper early on in the day let alone days before. I tend to think of something I fancy later in the afternoon and once an idea or craving get stuck in my head
I have to
cook it for supper.
Even if it means having to pick up a few groceries on the way home (M&S at the train station has definitely seen an increase in profits since I became a commuter!).
What with being on my eating plan from
Emily
and trying to use more veg and such I thought I would share our typical meals we have during the week and then share the recipes with you.
Some of our favourite suppers include:
♥ Vegetable Coconut Curry with fluffy white rice
♥ Mixed Salads with vegetable frittata
♥ Paneer Curry with chapati
♥ Pasta Genovese
♥ Lentil Dhal
♥
Broccoli Pasta Bake
♥
Chickpea and Pepper Curry
Some I have shared with you already, just click on the links to get to the recipes. These recipes are easy, affordable and perfect for week night meals when you want something nutritious and filling but do not want to slave for hours in the kitchen (lets be honest -
who does
after a day in the office?)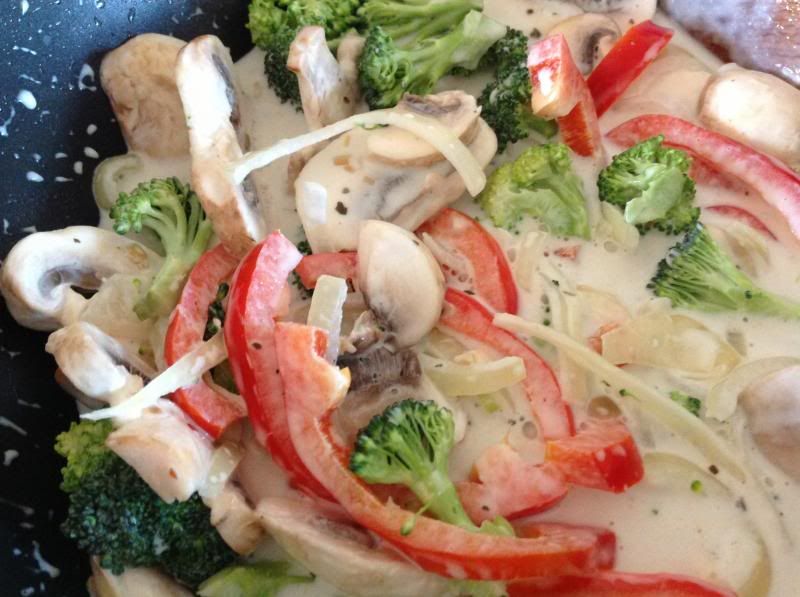 So first up here is one of my favourite meals: -
Vegetable Coconut Curry
♥ You will need
3 Large florets of broccoli, chopped into small pieces
1 pepper, chopped
1 onion, chopped
Handful chopped mushrooms
2 garlic cloves, minced
Tin of low fat coconut milk
Thai curry paste
Fresh coriander
♥ Steps
Fry your onion and garlic until browned, add the pepper, broccoli and any other veg you fancy and cook for a few minutes. Add the tin of coconut milk with the thai paste and simmer for 20 minutes. Meanwhile, cook the rice (always use 2:1 ratio for water to rice) - my secret tip is to fry the uncooked rice in some olive oil, add the water and put the lid on only once it starts to bubble. You will get perfect fluffy rice each and every time.
Once cooked, serve with some fresh coriander (seriously - this makes the dish!)
Happy cooking and let me know how you get on if you try this!
x