My blogger friend, Chelsea is sharing her inspiration on the blog today - enjoy ♥--------------------------------------------------------------------------------------------------------------------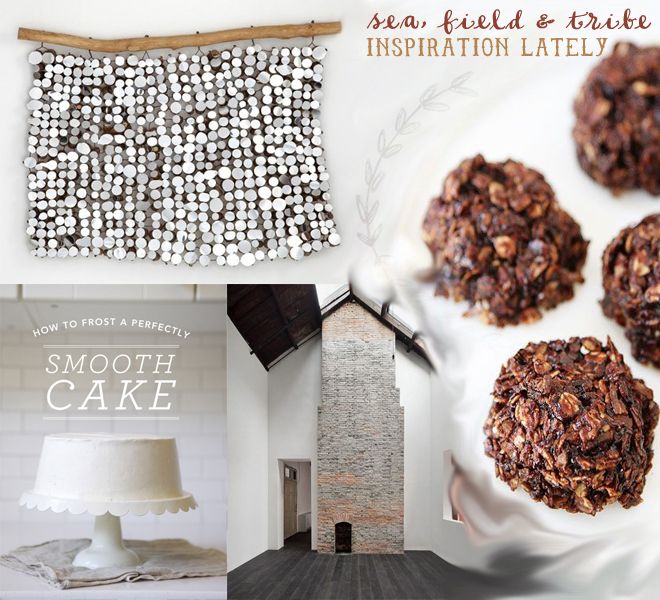 Hello there! I'm Chelsea from
sea, field & tribe blog
! Thank you to Claire for allowing me to share some of my inspirations of late. Like many of you, I too am on
Pinterest
and I use it quite frequently to find recipes or home inspirations, or nifty gadgets or things to help make life easier and simpler. So here is my wishlist/to-do list/inspiration list:
1. mirrored recycled wine cork
wall hanging
| wow is this cool! I love how simple this art appears, I think it would be easiest with wine corks, but you can also use other types of recycled wood. What a fun weekend project!
2.
a smooth cake
is a pretty cake | I've never been quite adept at this technique, so I was thrilled to come across these directions - which was actually much simpler than I thought, and led me to realize my mistake all along (my pastry knife is WAY too small hah).
3. a floor to ceiling
fireplace
! yes please! | what a beautiful interior, even though I live in the Caribbean and have no use for a fireplace, I'm sure many of you can appreciate this structural component! My parent's home in Texas has a double floor to ceiling fireplace, and I have such fond memories of gatherings and photos in front of it, plus lots of long winter nights and Christmases spent gazing at the beautiful flames it contained. Can you relate to this one?
4. gluten free/ vegan
no-bake cookies
| although I'm not gluten intolerant, one of my summer goals was to start baking with gluten free flours, to test it out and see how versatile these ingredients could be when substituted into some of my favorite dishes. This recipe sounds delicious and just like my Grandmother's "Oatmeal Mud Quickie Cookies", which were the super fattening, Southern Texas version of this above haha.